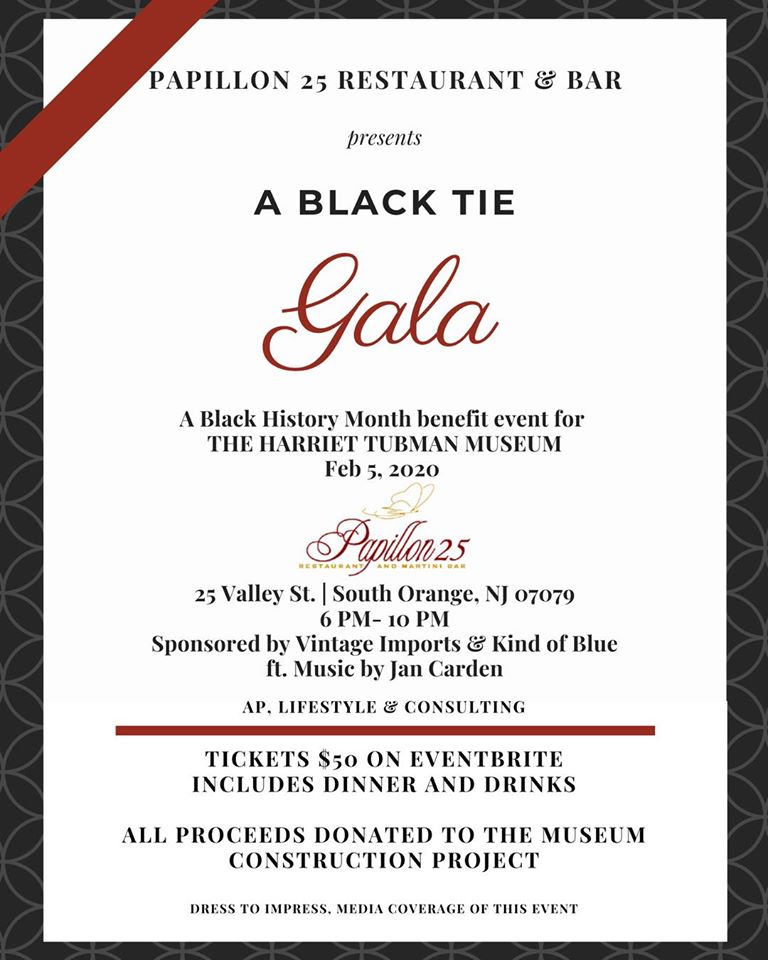 Papillon 25 presents A Black Tie Gala
February 5, 20206pm - 10pm
25 Valley Street, South Orange
Learn More
This was a great event!! Thanks to all who attended!
A benefit event for The Harriet Tubman Museum in celebration of Black History Month.
All ticket sales and donations go to the Harriet Tubman Museum building fund. Your ticket includes dinner and drinks. Donations at the door are welcome. Dress to impress, there will be media coverage of this event. Buy tickets here.
A member of the committee will be speaking at the event to educate attendees on the museum's connection to Harriet and Cape May. The evening will be sponsored by many brands including Vintage Imports providing wine, Kinda Blue Scotch-Whiskey, Papillon 25 providing food & experience, and special guest band appearance by Jan Carden.
HISTORY OF THE MUSEUM
The Harriet Tubman Museum was formed to recognize Harriet Tubman's courage, compassion and conviction as well as the history of abolitionist activism in Cape May and its surrounding region. Harriet Tubman lived in Cape May in the early 1850s, working to fund her expeditions to conduct fugitive slaves to freedom, and leaving Cape May to rescue enslaved people in Maryland. In Cape May, Harriet Tubman lived among many other notable abolitionist activists, who are also featured in the Museum's exhibits. The Museum will serve to educate the community about abolitionist activism, the Underground Railroad, and the history of the African American community in Cape May and the surrounding area.
Howell House, the once dilapidated historic parsonage in Cape May that serves as the home of the Harriet Tubman Museum, was named one of the 10 Most Historic Endangered Places in NJ by Preservation New Jersey in 2012. The Museum was formed by concerned community members in Cape May who sought to ensure that the severely deteriorated historic building was restored and also to highlight, preserve and revitalize the rich history of the African American community in Cape May. The restoration and transformation of Howell House into the Harriet Tubman Museum will preserve an important example of Cape May's historic architecture and ignite interest in and awareness of Cape May's vibrant African American history and its stronghold of abolitionist activity.
The Harriet Tubman Museum, which is currently being renovated and developed, will open June 19, 2020 – on Juneteenth, the anniversary commemorating the abolition of slavery throughout the United States.