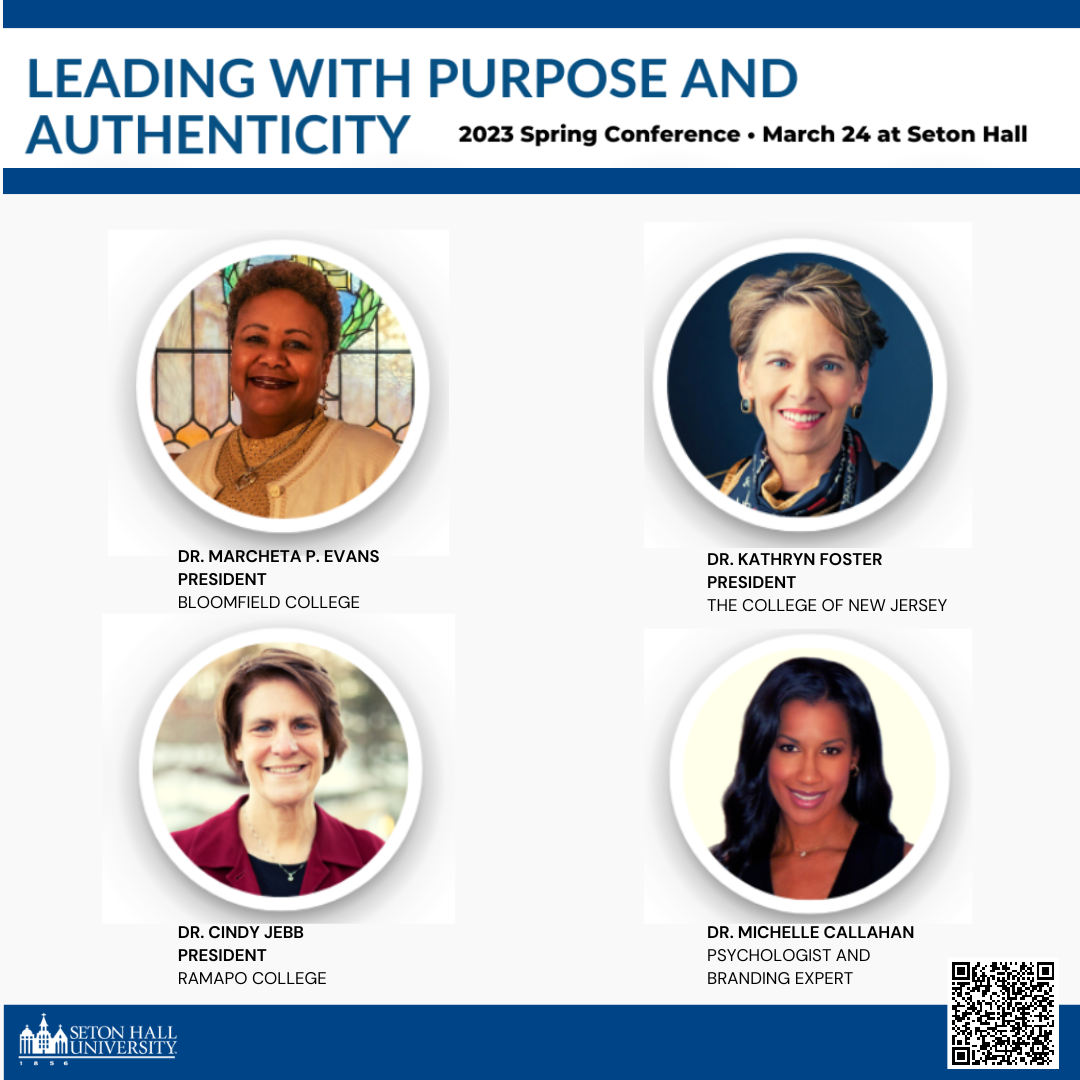 2023 Spring Conference at Seton Hall: Leading with Purpose and Authenticity
Friday, March 249am - 3pm (lunch included)
Seton Hall University, 400 South Orange Ave, South Orange
Learn More
There is great power in leading with authenticity and a bold sense of purpose. Learn how with the NJ ACE Women's Network.
NJ ACE Women's Network 2023 Spring Conference
Morning session feature: A Conversation Among Presidents
The job of leading change and progress in higher education has never been more challenging. The presidential speakers will share their experiences and offer advice for conference attendees looking to get ahead in their careers. Join the dialogue led by —
Dr. Marcheta P. Evans, President of Bloomfield College
Dr. Cindy R. Jebb, President of Ramapo College of New Jersey
Dr. Kathryn A. Foster, President of The College of New Jersey
Afternoon session feature: Your Personal and Professional Brand
In addition to lunch and ample time for networking, you'll spend time with branding expert and business coach Dr. Michelle Callahan. She'll share tips on how to make the most of your personal and professional reputation and more.
A professional photographer will be available to update your LinkedIn headshot. Photos are included in your registration; more details provided upon full registration at bit.ly/spring-lead.
Networking opportunities
Get to know other New Jersey higher education pros who aim to lead and serve others with purpose and authenticity. You'll have time to network with colleagues throughout the 12 p.m. to 1 p.m. lunch hour, and during afternoon coffee/tea following the conference.
————————————————————————————
READY TO REGISTER?
See the NJ ACE registration page at bit.ly/spring-lead for fees and deadlines.