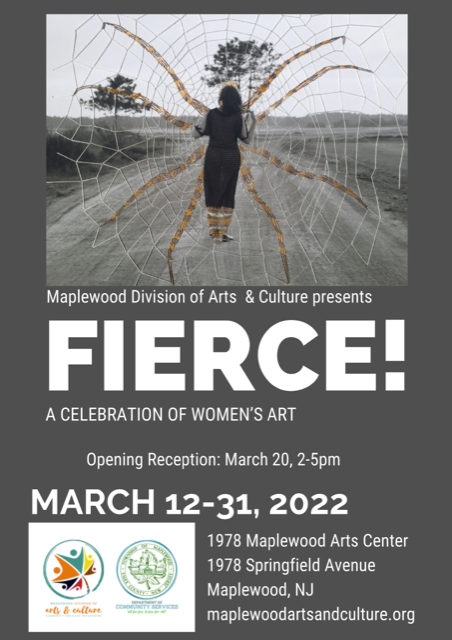 FIERCE: A Celebration of Women's Art Exhibit at the 1978 Maplewood Arts Center
March 12-31, 2022, Opening reception March 20th
1978 Maplewood Arts Center, 1978 Springfield Ave, Maplewood
Learn More
FIERCE: A Celebration of Women's Art
Exhibit at the 1978 Maplewood Arts Center
March 12-31, 2022
Maplewood Division of Arts and Culture and the 1978 Maplewood Arts Center present "FIERCE: A Celebration of Women's Art" curated by Marina Carreira, Manager of the Division of Arts and Culture. FIERCE will open for in-person visits at the 1978 Maplewood Arts Center on Saturday, March 12, 2022 and be on exhibit through Thursday, March 31, 2022. A majority of the artists will be at the gallery on Sunday, March 20, 2022 for an opening reception event.
This exhibit was designed to celebrate the resilience, ferocity, and creativity of women in the arts during the pandemic. Participating artists include Danielle Scott, Antoinette Ellis-Williams, Lillian Ribeiro, Christine DaCruz, Maria Estrela, Nette Forné Thomas, among others.
Attendees are required to socially distance and wear face coverings at all times. More information is available at maplewoodartsandculture.org.
Please join us for our celebrations of Women's History Month in both Maplewood and South Orange, and visit website somawomen.org for events and updates.