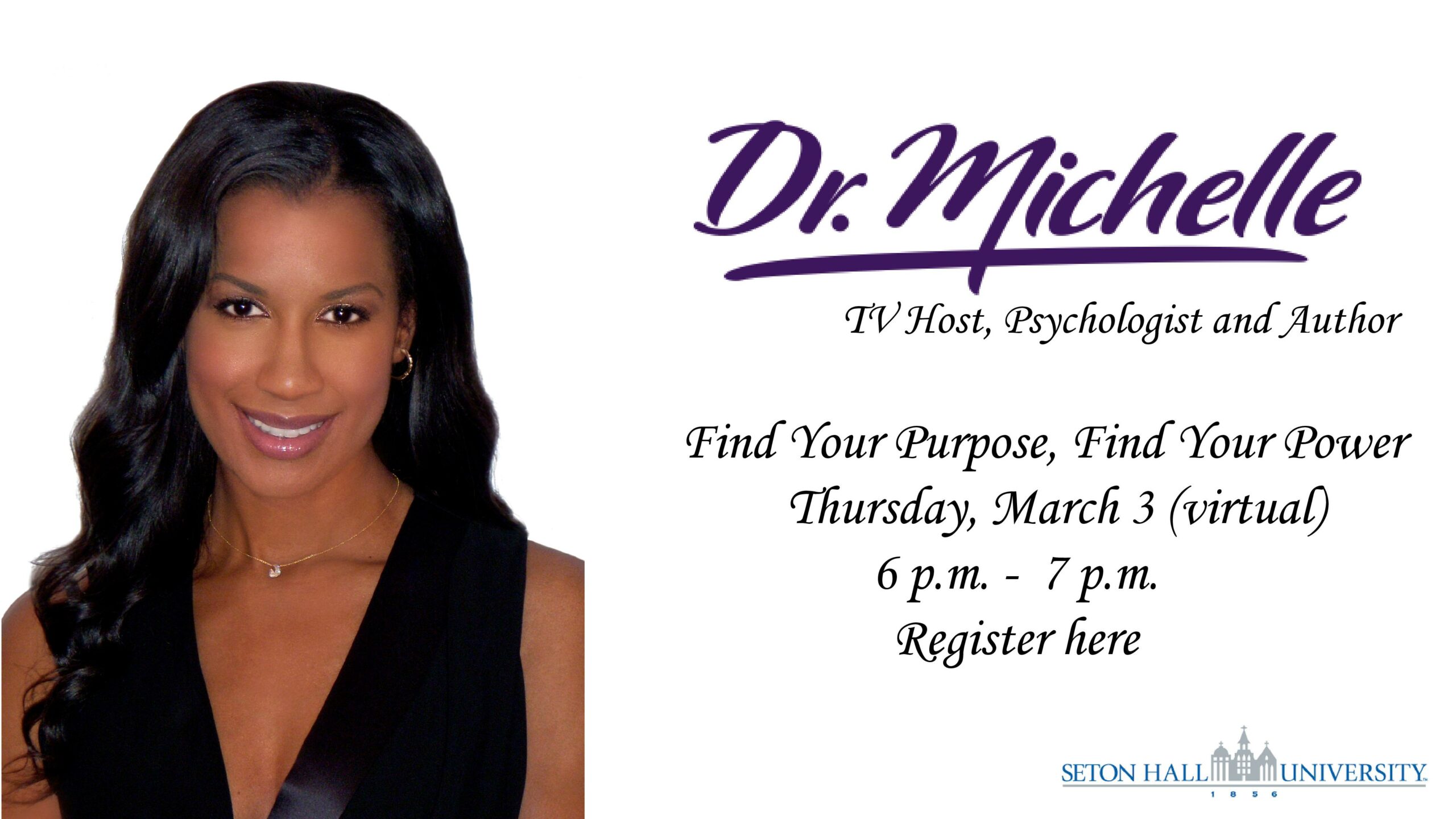 Find Your Purpose, Find Your Power with Dr. Michelle
Thursday, March 36:00pm
Virtual
Learn More
Find Your Purpose, Find Your Power with Dr. Michelle
Date: Thursday, March 3
6:00 p.m.
Virtual
events.shu.edu/view/event/event_id/18835
Dr. Michelle is a developmental psychologist, motivational speaker, relationship expert, and life coach seen on Wedlock or Deadlock, Good Morning America, Oprah, Dr. Oz, Rachael Ray, The Talk, Today Show, Queen Bees, and REMIXED! She is the author of Ms. Typed: Stop Sabotaging Your Relationships and Find Dating Success (Three Rivers Press, 2010). She has delivered keynote speeches at institutions including but not limited to MIT, Florida A&M, Society of Women Engineers (SWE), Urban League, Delta Sigma Theta Sorority, Inc., NAACP, Essence Women's Leadership Conference.
Dr. Michelle also serves as an internal and external consultant to Fortune 100 and 500 companies, including but not limited to, Morgan Stanley, The New York Times, Proctor & Gamble, Viacom, Johnson & Johnson, MTV Networks, Columbia University, Nickelodeon, BET Networks and the Natural Resources Defense Council.
Dr. Michelle received her Ph.D. and M.A. in Psychology from the University of Michigan and her B.A. in Sociology from Boston College. She was a National Institute of Mental Health Post-Doctoral Research Fellow at Yale University. Dr. Michelle has also taught Introductory and Developmental Psychology courses at the University of Michigan. See more at www.DrMichelle.com.