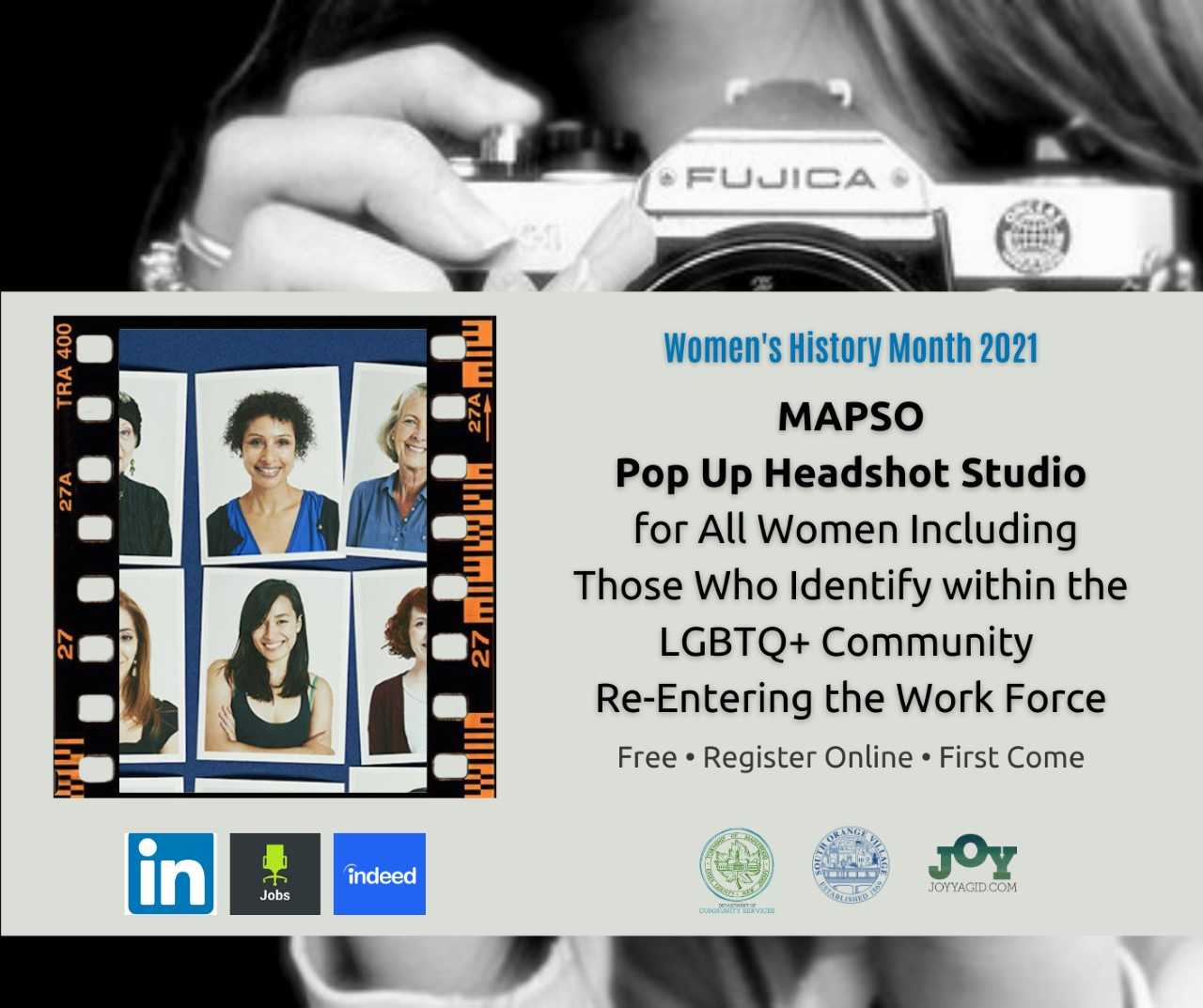 MAPSO Pop Up Headshot Studio for All Women, Including Those Who Identify within the LGBTQ+ Community, Re-Entering the Work Force
Registration begins March 8 for sessions March 11, 16, 21, 22, 2021See times below
The Woodland
Learn More
MAPSO Pop Up Headshot Studio for All Women, Including Those Who Identify within the LGBTQ+ Community, Re-Entering the Work Force
Are you just starting out or reentering the workforce? Senior in college or recent college graduate and need a headshot for your LinkedIn profile? Or are your kids old enough for you to reenter the workforce and you need an updated headshot?
In honor of Women's History Month, the Township of Maplewood's Department of Community Services, the Township of South Orange and Joy Yagid Photography LLC, are offering free headshot sessions to support women who need them. The first 30 women including those who identify within the LGBTQ+ Community Maplewood/South Orange residents/registrants will receive a free headshot session. Once all 30 free head shot slots are full, a number of discounted head shots slots will be available for $50 per session.
Each session includes the client's choice of one file from a gallery of about 6. To make you look your best, the session includes editing of photos to remove fine lines and wrinkles, smoothing the complexion, brightening eyes, and whitening teeth. Clients should come prepared for the headshot. Personal grooming, hair and makeup done prior to the appointment, clothes neat and lint removed.
March 11 – March 22, by Appointment, in Person, at The Woodland
Multiple Dates/Limited Time Slots – Register Online, First Come
Sponsored by Maplewood Department of Community Services, South Orange Village, and
Joy Yagid Photography LLC
Registration opens Monday March 8, 2021 at 12:00AM  (That's Sunday night to most of us)
Registration Link: https://maplewood.recdesk.com/Community/Home
If not a member, create an account.
Then Click on Programs
Then click on Special Event Category for a list of time slots
Time Slots:
Thursday, 3/11, 7pm – 8:30pm
Tuesday, 3/16, 11am – 2pm
Sunday, 3/21, 12:30pm – 3:30pm
Monday, 3/22, 6:30pm – 8:30pm
COVID Guidelines:
Sessions are booked back-to-back with sufficient time to minimize contact between sessions.
Please on time.
Please do not enter the building until your session start time.
You must wear a mask up until the session starts.
If you are feeling unwell at all, suspect you may have or have been exposed to COVID, please let us know and we will try to work out a solution.