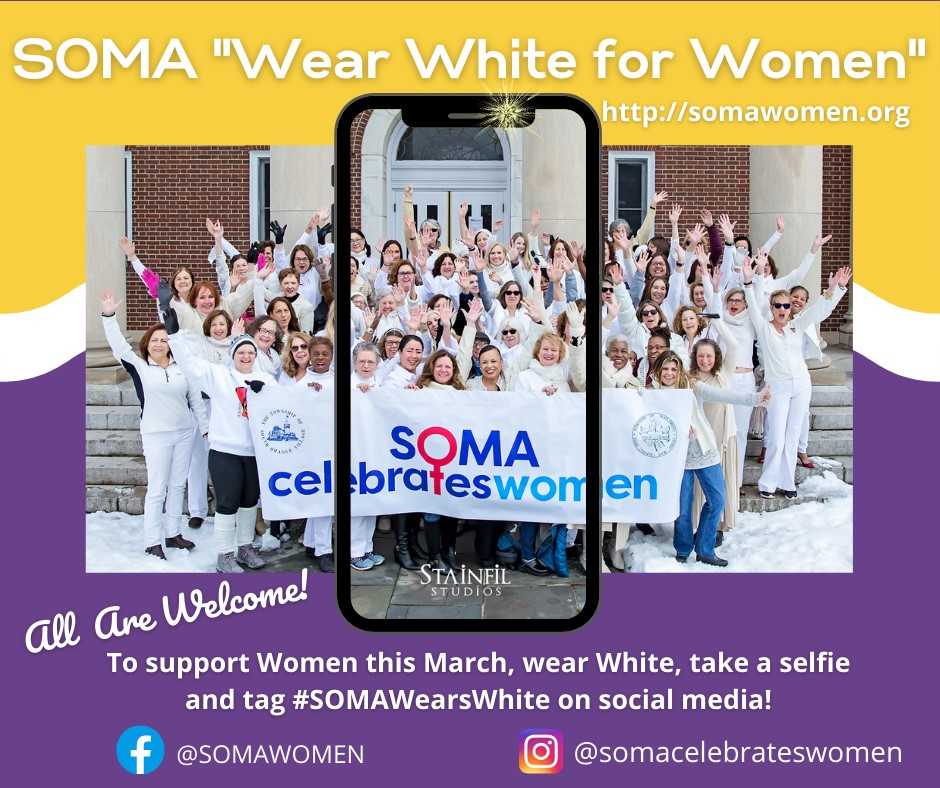 SOMA "Wear White for Women" Group Photo
March 1 - 31, 2021
Social Media
Learn More
We're coming together "virtually" to make a statement – women's rights are human rights.
We will not let this pandemic stop us from coming together as a community and taking our commemorative photograph celebrating Women's History Month! As women, we learn to adapt and this year will be no different!
We are calling on all the women AND MEN (kids too!) in South Orange and Maplewood to take a selfie and post it on social media with the hashtag #SOMAWearsWhite to help us commemorate SOMA CELEBRATES WOMEN, 2021. You can also tag us on our social media pages Facebook @somacelebrateswomen or Instagram @somacelebrateswomen. Not on social media? Upload a picture to Dropbox.
PLEASE WEAR WHITE!
Why Do We Wear White? We're asking all participants to wear white in honor of the women from the suffrage movement who worked to earn our right to vote! You've likely seen women from all walks of life "wear white" to send a powerful message but why white? White, purple, and gold were the official colors of the National Woman's Party and the suffragist movement.
According to the Congressional Union for Woman Suffrage's statement of purpose, the colors were chosen deliberately: purple for "loyalty, constancy to purpose, unswerving steadfastness to a cause," gold for "the color of light and life, and "the torch that guides our purpose." And white, "the emblem of purity, symbolizes the quality of our purpose." With white as their calling card, the suffragettes stood out not only in the streets but also in the media coverage of their marches. When black-and-white photography was the primary form of visual documentation, white provided a clear and bright contrast on the front pages of newspapers, attracting the eye of readers.